Sarah Wray, a 45-year-old mum of three and support worker from Carmarthenshire, recently recovered from Covid-19. She gave up smoking in November after suffering a chest infection. Here she describes her experience of quitting and her relief at having given up before contracting Covid-19.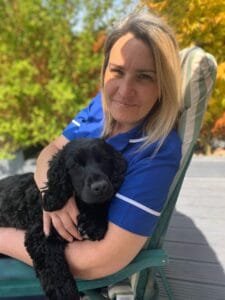 I smoked for 20 years and finally decided to quit in November 2019 after a chest infection in October. As well as having concerns about how it was affecting my health,  I was becoming very conscious about the smell and staining on my teeth and fingers which is not very pleasant when working closely with service users as part of my job.
Once I'd decided to quit I had one to one help  at my local surgery and I used
Champix.  To help with the cravings I changed my mind set, and used a nicotine spray.
I found that  altering my daily routine really helped. I even changed my tea bags, and drunk hot chocolate instead, because it's all about the habits you associate with smoking.
Quitting made a big difference to my life. I felt more confident, I wasn't coughing as much, which I'd been self conscious about.  I sleep better, I have more energy and I walk further when walking my dog. My family being proud of me makes a big difference, especially my children as I did not realise the effect it had on them.
I was recently diagnosed with Covid-19.  I had mild symptoms, the worst one being shortness of breath. In the end I was ill for 10 days and I feel I was very lucky.  I'm just so glad I gave up smoking because I know it would have been much worse if I hadn't and it would have taken a lot longer to get over.
Giving up smoking is really worth it. We all have different reasons for quitting but my message to smokers would be to please give it a go.  Yes it is hard but I'm so glad I did, and now 6 months on i don't think about smoking at all.