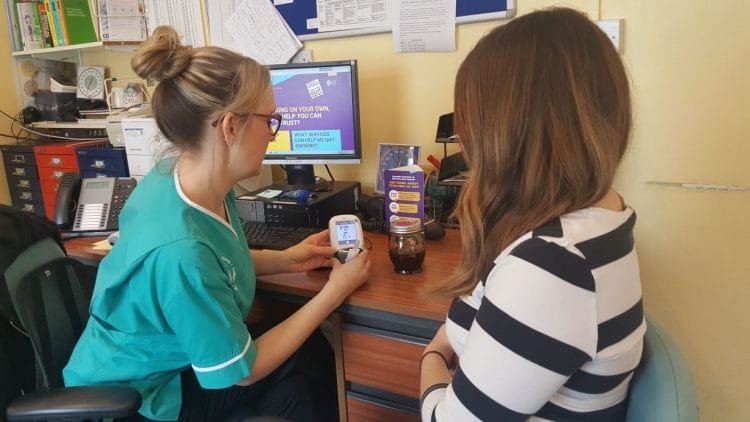 GPs and practice staff across City and Bay Health in Swansea are taking part in a new pilot project offering free breath tests and support for smokers to help them quit.
There are around 20,000 smokers living in the City and Bay Health areas, but the latest figures show less than 3% of these are accessing Wales' free stop smoking service Help Me Quit every year.
Tobacco control charity ASH Wales has created the new project to help GPs and practice staff to increase the number of would-be quitters getting the right support and nicotine replacement for them.
Smokers who are supported by specialist services, like through their GP or local pharmacy, are four times more likely to stay quit than those who go it alone.
In partnership with pharmaceutical company Pfizer, ASH Wales have provided 27 GP surgeries with 'smoke' breath monitors; hand-held devices which take just a matter of seconds to show a patient the current level of carbon monoxide – poisonous smoke – in their body.
Using a colour-coded traffic light system, patients can see the amount of damage they are doing to their bodies, acting as a powerful motivator to think about acting to conquer their habit.
Dr Kirstie Truman, Lead GP for the Bay Health Cluster, said: "Smoking has a devastating effect on the lives of so many of our patients, causing cancer, lung disease and heart problems. Working together to support smokers to stop will help reduce the number of people developing these fatal diseases.
"Allowing patients to see the level of carbon monoxide in their lungs will hopefully prompt them to seek nicotine replacement therapies and stop smoking. The best possible thing for anyone's lungs is to quit smoking and to stay away from others smoking around them. Quitting smoking isn't easy but there's free support and advice available."
Research shows near 70% of all smokers want to quit but finding information and getting the right advice can be a crucial part of that stop smoking journey.
Wales' dedicated stop smoking service Help Me Quit has recently expanded the choices offered to smokers with the majority of local pharmacies in the area now offering one-to-one support.
Chief Executive of ASH Wales, Suzanne Cass, said: "It's a shocking fact that almost half of all long-term smokers will die from a smoking-related disease. Anything we can do to bring down these worryingly high statistics is vital.
"We're delighted to be working with so many GPs from across City and Bay Health – every waiting room across these areas will now have information prompting smokers to ask about their free CO test. We must give smokers every opportunity, such as a trip the doctor's, to get advice and support that could help them quit."
Latest statistics show that if current trends continue and no additional action is taken the national target of 16% of adults smoking by 2020 will not be met. According to recent figures by the Public Health Wales Observatory, the 16% target will instead be reached in 2025.
Smoking is the leading cause of cancer and the single largest preventable cause of illness and death in Wales, causing over 5,300 deaths every year. 19% of the Welsh adult population currently smoke but this rises to 21% for the Abertawe Bro Morgannwg area – equating to around 92,000 smokers.
The Help Me Quit service and website offers tailored advice specific to the needs of would-be quitters. To find out more call 0800 085 2219 or visit helpmequit.wales
If you live in the Swansea Bay or City areas, look out for signs in the waiting room of your GP surgery about how you can get your free CO test today.